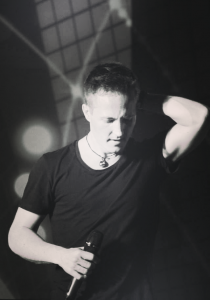 Richard Steighner is an award-winning performing artist, writer, and music director. Winner of America's National Harmony Sweepstakes and two-time finalist on NBC's The SingOff, Richard has directly worked with platinum artists and writers from Sony and Warner in the development of artist brands and promotion as well as hundreds of self-promoted shows and releases. Though his career started as an architect for Quiznos, Richard's passion for creating music has transformed his life into a multi-faceted performer and talent developer.
Richard has toured over 40 countries, written hundreds of songs, produced tracks in over a dozen languages, and toured with The Backstreet Boys, Olly Murs, Anastasia and Lou Bega. He's also performed studio and televised performances with Flo Rida, Pentatonix, Sara Bareilles, Ben Folds, Smokey Robinson, Shawn Stockman, and numerous artists through the US, Asia, Australia, Europe, and the Middle East.
In addition to a performer and recording artist, Richard is the founder of the hugely successful Hong Kong Music Walk, producer of A Cappella Nights in Colorado, and international speaker and instructor. He is the founder of former design company Kaleid and sponsored by TC Helicon.
FAQs
How did you get started? — I grew up liking attention…a lot! Especially when girls thought it was cute that I made a laser-beam sound in 6th grade. It's something, right? If I could do something the other boys couldn't, it would get even MORE attention. So I did. And in college, when I was playing guitar, Chris Carey asked me if I'd try out for his group. I did and took over for his beatboxing a couple years later. The rest is history.
How do you practice? — Let's just say my computer screen/mirror/inside of my windshield is a mess. Take that how you will…
Did you go to school for music? — nope! I went to the University of Colorado and studied Psychology and Architecture. In fact, I was designing restaurants for Quiznos as my first job (until I got laid off!).
What's your real job? — This. This is my real job.
Most interesting place you've traveled? — Saudi Arabia
Favorite artists? — Boston, Bruce, M83, Kanye
What do you want to do with all this? — Great question, and it is something a smart person told me to understand. Still looking for the big answer to this, but for now, I just love music and people and traveling!