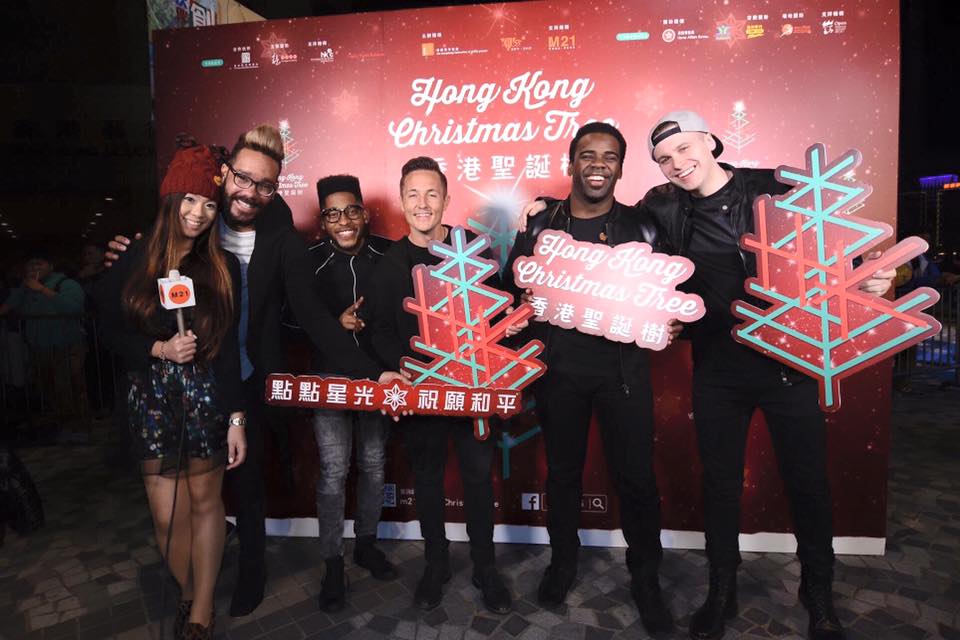 Nothing like a plan to make sure you have no idea what to expect!
On a couch upstairs at my dad's house, I craned my neck to balance my iPhone on my shoulder. I had our manager on the line to resolve a budget issue. It was "How much can we spend on the video?" vs "What's the video going to be?" This was a week of texts that got solved in 3 minutes over the phone. Crazy.
So a few "What I meant to say…"s later, we got a budget and hired a friend of a friend to produce a video for us in Hong Kong.
Meanwhile, I jumped on a flight to Australia to meet up with Maria and her family for the holidays. Side note: ALWAYS cash in your airline miles. I got a round trip to Australia (about 36 hours on planes) for 300 bucks. Hell yeah.
I got to see Maria perform for the first time since we met! She's a hell of a dancer! We spent the rest of my first week catching up with friends, eating lots of Italian food, and chilling out before I had to leave for Hong Kong. Another day of travel (and a few hours sleeping on the airport seats) brought me to one of my favorite towns. Strangely, for the first time in the nearly dozen times we've visited, I had an evening to wander on my own and do some shopping. It was weirdly gratifying and energizing, even if it might be less mileage traveling as a group.
That night we met Bosco, the video producer to-be. We sat down and had the most productive meeting I've ever had. Piece by piece we planned the shoot, with times and locations! So satisfying to actually accomplish something in a meeting.
We shot the next day, all over Hong Kong, not knowing what to expect but in a very flexible mood. Bama managed the whole process masterfully and Bosco's crew made calculated moves and decisions, communicated what needed to be done, and executed. So perfect.
Lunch. More shooting. Cab rides to locations. Busy day. It ended in a park as the sun set where we tried for a drone shot. With the sprinklers popping up and the sun running out, we had to can the final shot. It meant the next day we'd shoot early in the morning following after which Christopher and Jamal and I would go see Star Wars Episode VII: The Force Awakens! It released in Hong Kong about 24 hours before the States, and we could get our Instagram posts up before anybody lol.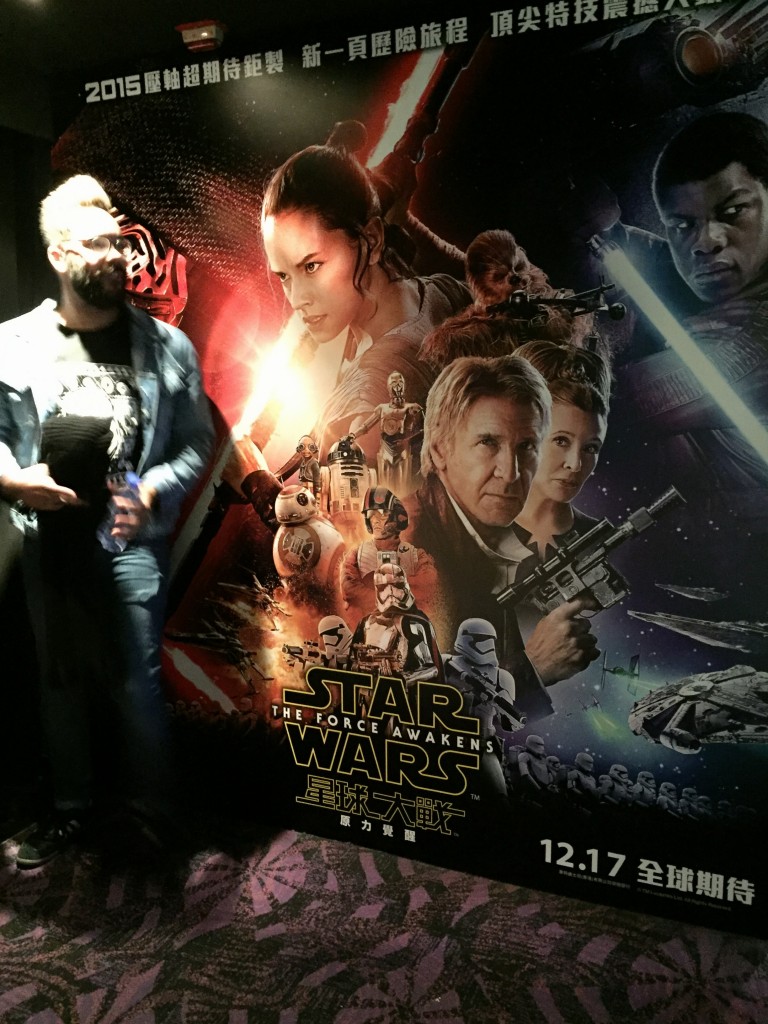 The show (for which we actually flew to Hong Kong) was cut short, as it was the year prior. The tree lighting ceremony had a hard open in the evening and we had to finish singing before the clock struck. So we sang about 4 songs and had to finish early. But the crowd loved it and we ended up doing an encore after the tree was lit!
We couldn't stay long so Bosco brought the cut-together music video to the hotel where we were filming another live video. I don't think we've ever been so productive! Anyway, to our pleasant surprise, Bosco had FINISHED the beast! I guess in Hong Kong, the norm is that you film a wedding in the morning and show the video at the party that night. So he was used to getting a video done in record time. Long story short, we loved it and hired him to come on our AMA tour with us in the spring. He even helped shoot and edit the live video. He's the man.
Find him here: http://www.bozz-production.com and hire him for your thing.
As usual I left early the next morning. Our friend Manson came to the hotel to visit with us and our friends Cammy, Heidi, Kobe, Carol, Sunny, and their new son Ocean, but I missed him by a few minutes. Next time, I hope. I flew back to Australia.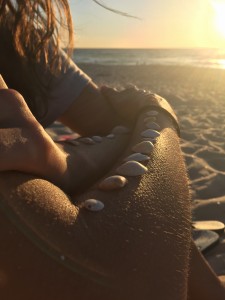 The next three weeks were euphoric. The summer weather down under was hot and dry. It meant we went crabbing, fishing, swimming, tanning, bike-riding, hiking, and sight seeing in paradise. The Velletris run a catering business out of their home and I promised Vincenzo I'd make him a website. So, because I can't leave well-enough alone, I wanted to produce a video to go with it. That meant tagging along and helping with a few events where I got to see him at work.
It's rare to see somebody working diligently these days. I don't know if it's the life of a musician, but consistent, hard-work is a unicorn, and seeing him at his best was a charming sight.
The weekends were filled with lunches at relatives' houses, beers and whiskies, meats and pastas. We spent Christmas, not under a normal cold winter sky, but in the (unseasonably) mild summer warmth. We spent New Years overlooking the fireworks on the harbor and playing board games with friends. In anticipation of Mariaelena's birthday and Valentine's Day (both of which I'd spend back in the States), we used a gift card to have a fancy lunch and a bottle of wine in the Western Australia countryside. One hot afternoon, a few days after Nick's party and Maria's party merged, he took us up to the farm to try out their Quad. Despite nearly flipping it, I had an incredible time tearing through the dusty paths of the farm. But, my personal favorite was off-roading to a secluded beach where we spent the evening throwing fishing lines into the waves.
The last day I was there was split. Maria had to work so I visited their family friend, Antonio. He is a sculptor and swims at the same gym as Vincenzo. I drove to his studio which, from Google Maps, might look like a trash heap. But after winding through a few piles of materials and parts, I found a warehouse of yarra wood creations and metal folded and welded a thousand different ways. His most successful pieces were a steel band bent into a 3 foot kangaroo (a piece he'd replicated and shipped around the world), and a wooden cutting board which he modeled hundreds of similar cuts of wood for the likes of Guy Fieri and Jamie Oliver.
Antonio lost his son a few months back. Cancer took his leg and his life. His name was Ulio Jujol Battistessa. After a tour of his home, I shared a tea with Antonio, and he told me he believes his son was speaking to me. Somewhere along the way I had lost something and became afraid. My power and charisma were veiled. There were questions I needed to ask and wait for the answer. Vague but helpful. He mentioned that The Exchange (despite never seeing/hearing/knowing us) had lost its magic, something I've felt for a while. A while back, I fought to keep Danny in the group. I lost that battle. It was a difficult time for me in the group as I tried to fill that void. I saw the group as something different when he was a part of it. Truth be told, there are better singers out there and harder workers, but I saw some kind of symbiosis when he was with us. It kept Aaron happy which then in turn kept me happy which then in turn kept Jamal happy which then in turn kept Fredo happy which kept Christopher happy. It was remarkable, but it changed, and I don't think I've recovered.
Strangely, in writing this, I may have had a revelation that the person I am is different than the person I was trying to be. I have been trying to be Danny. I forgot who I was and devalued myself for not being what somebody else was. I guess I'm writing this more for me, but if you're out there thinking of how to emulate somebody else for the affect they have on somebody, I might urge you to fully consider that notion.
I'll leave you with some quotes Antonio showed me:
"The secret of change is to focus all of your energy, not on fighting the old, but on building the new"

"The beauty in our hearts transforms the world around us" -Red Bear

"The future belongs to those who believe in their dreams"
By the way, here's the video I made for the Velletris: