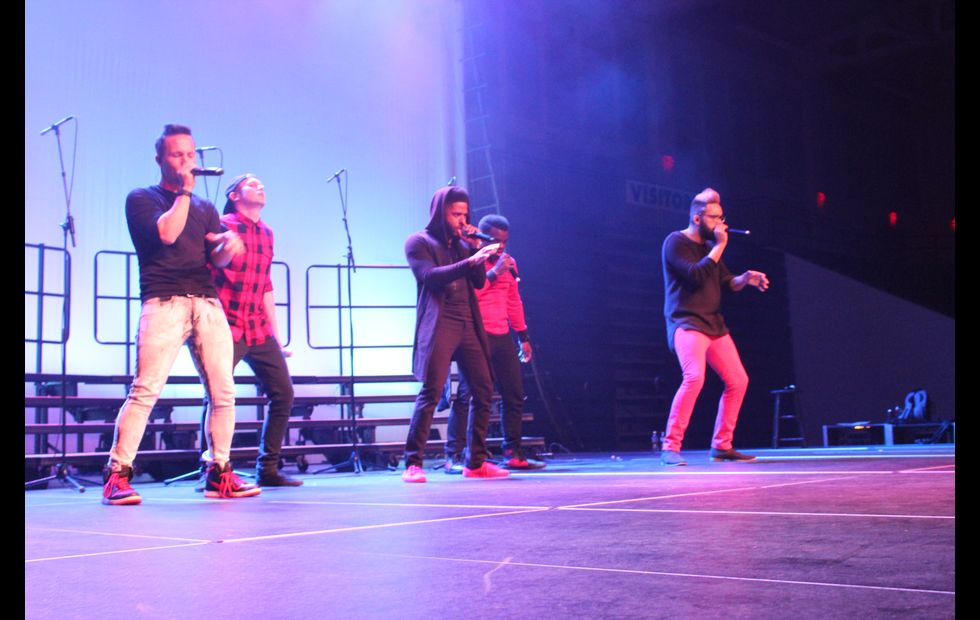 Ok, I finally figured it out. Have you seen Ghostbusters II? The one where they hose down Janosz with the pink slime? THAT'S how I felt after this quick trip to Ohio. Here's what happened at the Kettering National A Cappella Festival:
It was unseasonably warm a week after my birthday as Bama picked me up from the airport. My flight was late so we hustled to the hotel where I showered then made the venue minutes before the show started. Thankfully and for the first time in a while, it wasn't our show. We were there to listen and comment on high school performances and watch our friends in Musae close the show. Our group sat in the back after a casual but raucous introduction and whispered into the recorders from Brody.
The scholastic groups were awesome, easily rivaling if not surpassing other pro groups we know. I imagine the SingOff, Pitch Perfect, etc. have set the raised bar.
We stayed up super late talking to Jo that night about everything from monitors to Australian archaeologists before waking up at the crack of dawn on Saturday. Everybody in the group had their own room (except Jamal & Aaron, paired together), and got to work with about 7 different high school groups. Gotta give big ups to High Voltage, Vocal Point, 2Knight 2Knight, Whitmer Elite, Blue Notes, Sounds of Liberty, and the Mello Divas. I was assigned to coach visuals, and my goal was to get everybody feeling comfortable in their own skin and with their group.
As a side note, I wholly believe that connecting with your own body is crucial to singing well. It helps rhythm, it helps nerves, it helps confidence, it helps the show. So, my teaching style generally focuses on conveying what to fall back on–what to do when there's nothing to do. We all know how awkward we felt in high school, but that doesn't always change! Even with choreography, there are times when you sing lead, or "rock out" or stand there sort of waiting for the next step. That's when it all falls apart. If "music is the space between the notes" (Debussy), then dance is the motion between the steps. You following me? Ok, I've derailed the blog. Back to Ohio…
Working with the groups was awesome. It's the best thing we do as a band and so energizing. I love it. The coolest part is that we'd see them at the show!
After soundcheck and a trip back to the hotel, we hit the stage. After the first song, the entire crowd had risen to their feet and we slammed. I give a lot of credit to Tony Huerta cranking the system and I give a lot of credit to the guys who came prepared mentally and emotionally. It was so much fun to feel it going well, especially in front of our a cappella crowd!
We signed autographs, took pictures, and rolled back to the hotel where we cleaned up and hit the bar (as usual haha). It felt like the whole audience was there too and we got to chat to everybody. Finally, a little raspy from the show and a little dried out from the heater last night, we called it a night (also the bar kinda kicked us out since it was well after the closed haha). We slept in and casually hit the airport. On the flight back I felt euphoric. Thank you Kettering 🙂
PS, check out my interview on www.dayton.com