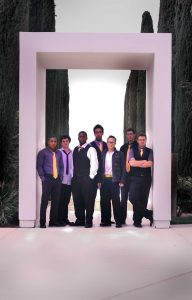 What's the best way to get ready for a 14 hour flight? Go to Vegas!
This week's show is for a whole crew of engineers…something actually tells me this young, intelligent crowd is ready for a little musical relief. I'm here with The Exchange just before we head to Asia. We're in Vegas a little before the season starts, so this resort is a little empty and the place is basically ours.
Being a beatboxer, I think I'm supposed to have a real bad-ass demeanor but truth be told, I pretty much lived in the free spa. Free food, nice gym, free water, a lounge chair in front of a TV. I mean, come on! I'm there.
So in the middle of all this chilling out, we rehearsed, did a little photo shoot, and at the end of the trip, hit up the strip. That brings me to the airport in San Francisco….specifically, the floor in the international terminal. About to jump on a freaking long flight to Hong Kong, everybody is in throughs of recovering from the no-sleep night on the strip…Apparently there's a little company in the airport that will sell you shower time (sounds sketch, but I am desperate). So I showered and jumped on the plane, and we are off to Asia!